Thursday April 27, 2017
5:30 pm — 8:30 pm
Well over 125 members of Milwaukee's creative community actively participated in an Islands of Brilliance design workshop or volunteered to plan and run one of our special events in 2016. To everyone IOB says cheers and thank you! This little program that could continues to grow, so now they're looking for your help to recruit even more people to our cause.
IOB mantra: DO GOOD, DRINK GOOD BEER
With the generosity of our friends at Milwaukee Brewing Co., IOB has organized a Brilliant Beer Bash to help widen their circle of volunteers. In addition to free beer, music, and food trucks—do they know our audience, or what?—they'll be unveiling their Mentor-Get-A-Mentor program, where volunteer referrals that turn into volunteer sign-ups for workshops result in rewards.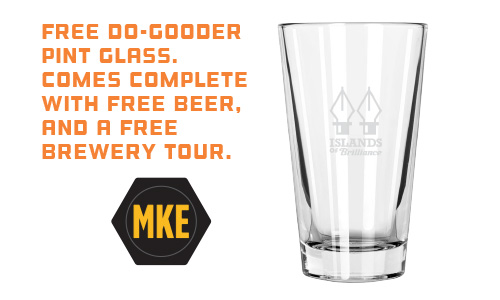 CELEBRITY BEERTENDERS
We've enlisted some A-List talent to help serve the suds throughout the night, including:
Dave Hanneken, HY
Jerry Higgins, Core Creative
Members of the Rushin' Rollettes, Milwaukee Roller Derby team
Dan Augustine, EPIC Creative
Laura Gainor, United Adworkers/Serve Marketing
Ryan Day – United Adworkers Softball Commissioner
The beer is free, but tip our Beertenders well! All proceeds benefit IOB!!
DJ 
Bader Rutter's Johnny K. will be spinning soul, 60s mod rock, ska, rock steady and reggae from the crow's nest at the brewery.
FOOD TRUCKS
Oscar's will be serving up victuals on 2nd St. in front of the brewery!
Islands of Brilliance
Organizer of Islands of Brilliance – Cheers for Volunteers
Islands of Brilliance runs creative and technology based workshops developed specifically for children and young adults ages 10 – 18 on the autism spectrum. Workshops are designed to engage students with "affinity-based" projects. Leveraging this personal subject matter expertise helps them maintain focus, socialize within the natural flow of the creative process, and provides them with a sense of accomplishment by successfully completing of a design project. 
Each student is matched 1 : 1 with a mentor— volunteers with a visual design background. Classes are overseen by an experienced special education teacher, and offer additional hands-on creativity activities in an unplugged makerspace area. Our student/mentor creative teams work on an 18" x 24" poster, from initial sketches through design using Adobe Photoshop and Illustrator. Students complete the class with an expanded knowledge of software design tools along with intangibles that are far broader and more important—a collaborative experience, sharing and presentation opportunities, conversation, friendship, and most of all a sense of accomplishment.
Volunteer Roles
Key traits of a great IOB volunteer? Empathy, a little bit of patience, and a huge heart. We need both creative people and organized people to help us make our workshops a successful learning experience for all of our students. 🙂  
Design Mentor
You will work 1 : 1 with students helping them sketch out ideas for their project, and then collaborating and guiding them through the process of designing and completing of the project using Adobe Creative Cloud software. Working knowledge of Photoshop and Illustrator is required.
Art Buddy
You will setup and run the art break area, which is available for students who want or need some time away from the computer. Activities may include a collaborative painting project, Model Magic, building with LEGOs, etc.
IOB – BFF
You will arrive early to help with the setup of the workshop layout, including making sure technology stations are ready for our creative teams. You will also be in charge of the contact list for mentors and students, and be expected to proactively communicate with any mentors or parents who are not present 5 minutes prior to the start of class. You will be a buddy to any student/mentor who needs a little extra help and attention.
Milwaukee Brewing Company
More Upcoming Events